McWhopper proposal is a Burger King advertising campaign in which the company proposes McDonald's joining forces to create a new product, the McWhopper. McWhopper would be a mash up between the most iconic hamburgers of both brands, the Big Mac and the Whopper, and it would contain six ingredients from each one. Burger King suggest to sell this new hamburger in one only place in the U.S. for one only day, 21 of september of 2015, commemorating the International Day of Peace set by United Nations.
In brief, it is a cobranding proposal between Burger King and McDonald's, but with certain aspects that make it unique. Firstly, a cobranding is never done between competing brands, but between brands and products that are complementary. Besides, the proposal has been made openly, in the form of a multimedia campaign created unilaterally by Burger King. We should note that this is possible because U.S. laws allow to mention competitor brands in advertising. In this case, the McWhopper campaign uses the brands McDonald's and BigMac.
The campaign began as an open letter from Burger King to McDonald's, published in The New York Times and Chicago Tribune. This is the ad: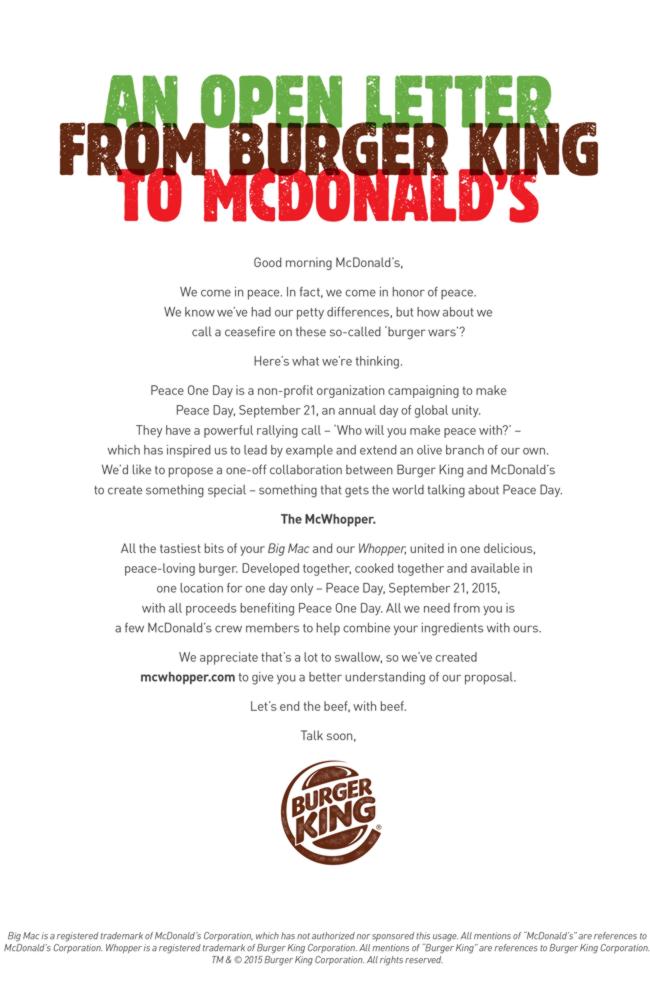 As mentioned on the ad, the campaign also has a website, mcwhopper.com. Burger King also posted two videos on YouTube, in which they give detailed information about the proposal, even including packaging and uniform design.
McDonald's rejected the proposal with a Facebook post from the company's CEO:
This cold and condescending has been received with rejection by the public, as demonstrated by the negative comments left on the post. Comments are not mainly focused on the fact that McDonald's is losing an opportunity, but on the arrogant and derogative tone the company used to communicate its decision.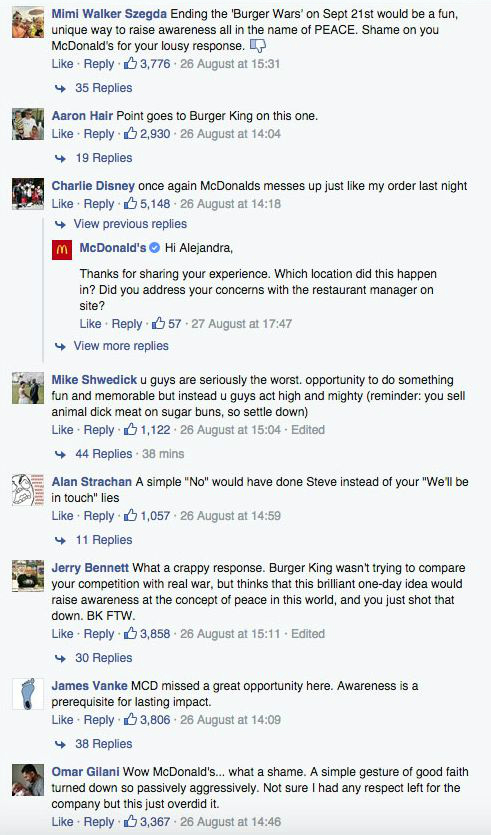 One of the golden rules of cobranding sets that it should be done between companies of similar importance, generally between leaders in their respective industries. If the McWhopper proposal succeeded, Burger King would be the most benefited brand, not only by creating the campaign (which puts McDonald's in the follower role), but also because it sets the brand in an imaginary situation of rivalry with McDonald's in which both companies are equivalent, when in fact Burger King is far behind McDonald's both in the U.S and worldwide. The dimension of Burger King's business is much more similar to another hamburger chain: Wendy's.