One common query among YouTube users is how the platform counts video views. Is a simple click enough, or must you watch the entire video? Does playing the same video twice on the same computer count as two views? In this article, we will provide answers to these questions and shed light on the YouTube view counting system.
To begin, it's worth mentioning that YouTube's official help resources provide limited information on this topic. This intentional vagueness is designed to prevent users from manipulating view statistics to make their videos appear more popular than they truly are. Consequently, the information presented here is not sourced from official YouTube communications but rather from experimental observations.
It's also crucial to bear in mind that YouTube allows channel owners to generate revenue by displaying banners and video ads through Google AdSense. In such cases, artificially inflating view counts is considered fraudulent.
So, How Does YouTube Count Views?
When it comes to counting views on a YouTube video, simply clicking on the video is insufficient for the counter to register your visit. However, watching the entire video is not a prerequisite either. YouTube begins counting views after the video has been playing for at least 5 seconds.
If you repeatedly watch the same video, only one view will be tallied since the cookies stored on your computer or device identify you as the same user. After 30 minutes, this cookie information is cleared, initiating a new session and enabling a new view to be counted.
If a user watches the same video multiple times, and their views are counted separately, it may be due to actions such as deleting cookies or switching browsers.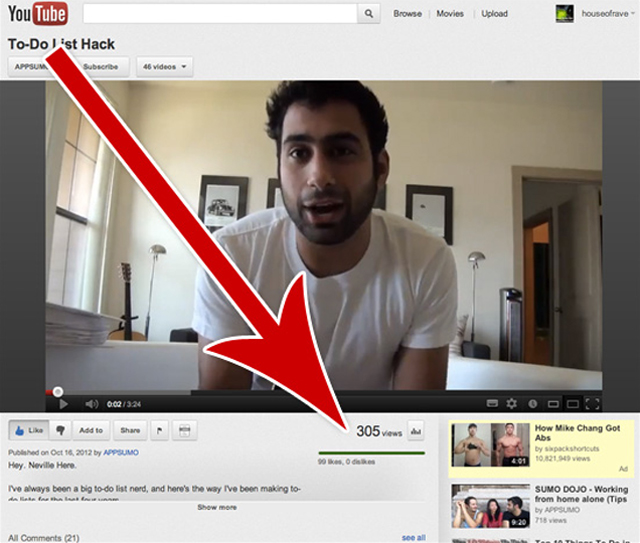 Viewing Embedded YouTube Videos
When a YouTube video is embedded on another website, whether views are counted or not depends on several factors. By default, YouTube does not count views initiated through the autoplay feature. This means that if your video is set to play automatically every time the web page loads, those views will not be added to the count.
Furthermore, there's another condition to consider for view counting: the video must be played using YouTube's own software. If a different video player is used, none of the views will be counted.
Detecting Fake Views
Frequent YouTube users may have noticed that when a video reaches approximately 300 views, the view count often freezes, and no further views are registered. This is because, beyond that threshold, view statistics undergo a verification process by YouTube, which can take half a day or longer. This automatic precautionary measure is intended to prevent individuals from artificially inflating view counts by repeatedly watching the same video.
Rather than attempting manual view inflation, a viable alternative is to purchase YouTube views in larger quantities. This strategy enhances the ranking of your videos in both YouTube and Google search results, expanding the reach of your content. Additionally, viewers are more inclined to engage with videos that appear highly popular or trending. The cost of buying YouTube views is quite affordable, with options such as 10,000 views available for just $40. To learn more, visit Buy YouTube views.